Anyone wondering why in the world I've got old pallets on my patio?? To make a pallet garden!!
I had some bug issues, overcrowding and too much rain so don't mind the scraggly-ness.
Some of you may know from previous posts that Brian and I live in a lovely little townhouse. We really do love it and it's a wonderful place to live but it's limiting when it comes to wanting to doing more permanent things like fencing a yard for the dogs or planting a garden.
But, I've decided while I may be limited, I'm still going to grow as much as I can on our little patio! I've got the pallet garden and multiple plants and veggies growing in pots. I want to prove that even in small spaces it's possible to grow your own food! It's double challenging because my dad is the one with the green thumb in the family, not me! Although I'm passionate about growing things so hopefully that will make up for my lack of skills! We'll see!
Ok I know it doesn't look like much, but I did all seeds for the pallet garden, no transplants. I'll write update posts as the seeds sprout and grow!
Potting soil
Landscaping paper
Staple gun and lots of staples
Pallet(s)
Seeds
I also read online that you should look for serial numbers stamped on them with "HT" on it which stands for "heat treated' rather than chemical treated. We couldn't find stamps anywhere on any of the pallets we got so hopefully they're the former rather than the latter.
When we drove around back to pick them up we found multiple sizes which turned out to be perfect! I thought the full sized pallets would be too big for our patio but we found two that were about half the size of a regular pallet and even one mini pallet! Jackpot!
Flip your pallet so that whichever side you want to be the BOTTOM is facing up. I wanted neat little rows so I used the more open side as the bottom. Roll out your landscaping paper so that it meets every edge.
Now staple, staple, staple! No one's going to see the bottom so just staple away. It doesn't need to look cute.
Staples everywhere.
To make sure every side is covered, roll the landscaping paper the opposite direction of the first layer then staple away.
Fold up the corners and staple them until they're nice and secure. Brian and I actually did a total of 3 landscaping paper layers. I think as long as you do 2 you're ok. I was just worried because it seems so thin and I didn't want anything ripping.
Now it's all done and ready for soil and seeds!
Remember, it doesn't have to be pretty, just functional.
Add your soil and spread it evenly under the slats.
Get your seeds or plants ready! I chose spinach, broccoli and a mixture of 5 lettuces.
Fancy lettuce blend seeds.
Plant the seeds and water according to the directions on the seed packet. Since the soil was loose I simply dragged my trowel and made a trench about an inch deep and dropped the seeds in. The pups were out enjoying the evening too. No worries, they're attached to a yard stake so they're not going anywhere.
Oh and don't forget your super sophisticated vegetable marking system. Sigh. I'll make something nicer eventually!
The two left sections are spinach, the middle is broccoli and the two on the right are the lettuce mix.
And there you have it! A pallet garden for less than $20! It could even be free if you have your own compost and seeds saved from years past! I'm so excited to grow our own food! I can hardly wait to post pictures when they start sprouting!
We've also got a strawberry plant and 4 roma tomato plants in pots. I bought green beans as well but still need to plant those. I'm really considering getting blueberry bushes too. Can I just have one of everything??
Yep these memes are pretty accurate about now.
Oh and I know the potting soil I got probably wasn't my best choice but it was $2...I don't know how I can refuse that. Plus, I've got another project going that will help highly fertilize my plants from now on! Can't wait to share that with you as well!
Till next time,
Catherine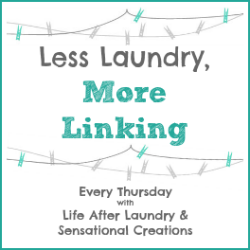 I've linked up to
Less Laundry, More Linking
with
Life After Laundry
and
Sensational Creations
!