I came up with this project from combining a few simple ideas. Lately there has been this wave of popularity for your home state themed items. Frequently in art but also in jewelry and other mediums. If you don't believe me, here are some examples. All of which I can't help but love!
My husband was born in San Diego, California but only lived there for a few years before his parents decided to move back to Virginia. I have lived here my entire life. As far as we're concerned, this is home! We absolutely love living here. We have a desire to travel the world but Virginia will always be home. So I knew a tribute to Virginia would be a lovely addition to our home.
If you want to do this project for your home state and county, do it! It's really fun and easy and I absolutely love mine!
You'll need:
Two pieces of scrapbook paper, your choice
Xacto knife or tiny precision scissors
Glue and/or tape
Rotary mat (if you're using an Xacto knife)
Directions:
Find a good map of your state. Print it to whatever size you prefer. I just stuck with 8x10 so I could easily print it with regular printer paper.
Glue the corners your map onto your scrapbook paper. I used a few dabs of hot glue. You could use tape or a simple glue stick. Just don't glue the actual map area onto the scrapbook paper.
If you're using an Xacto knife, lay your rotary mat on a flat surface and place your paper on top. Carefully trace the outlines of the state. This part takes some time. Don't rush because you'll either hurt yourself or mess up and we don't want either of those things to happen!
If you want to cut out a heart, pick your favorite county or city and trace a heart over it and cut it out as well.
Now just center your state onto the other piece of scrapbook paper and glue it down. I used rubber cement for this...not totally sure why I chose rubber cement over another type of glue. I doubt it makes much of a difference.
Now trim the excess of your scrapbook paper (they normally come in 12"x12" size) and slip it into your frame!
Till next time,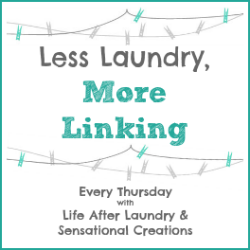 I linked up with Life After Laundry and Sensational Creations for their Less Laundry, More Linking Party #2!
I've linked up with
Fluster Buster
and
This and That
for their
Fluster's Creative Muster Party #35
!